Pikilipita Advance Cartridges & ROM
Video mix software for Nintendo systems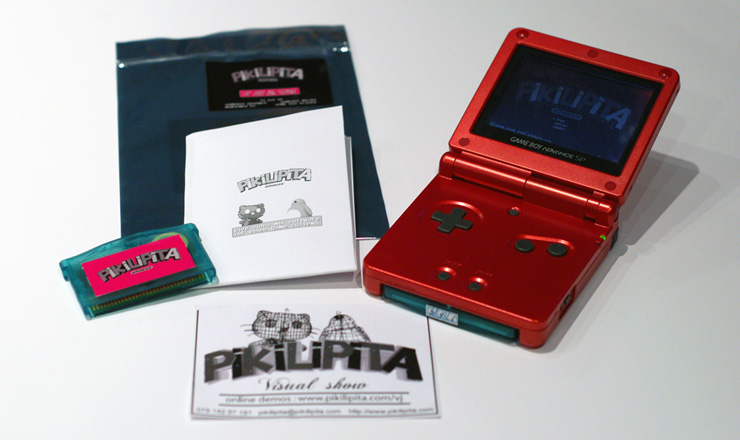 Pikilipita Advance cartridge (photo: alex turner / cuisine)
We have produced a limited edition of 80 Game Boy Advance cartridges of this software. They are presented in a nice packaging, a user manual is included.
Pikilipita Advance is also available as a ROM: the exact copy of the software on the cartridge. This ROM works with Game Boy Advance emulators. We recommend Visual Boy Advance: it's free and works with both Windows and Mac OS X (http://vba.ngemu.com).
Cartridges are shipped from France. You will receive a confirmation e-mail shorty after completing your order.
Cartridge compatibility list
Nintendo Game Boy Advance
Nintendo Game Boy Micro
Nintendo Nintendo DS & DS Lite
Nintendo Game Boy Player + Nintendo Game Cube
ROM compatibility list (emulators)
Visual boy advance: Windows, OSX, Sony PSP
Boycott advance: Windows
gpSPhone: Apple iPhone/iTouch
gpSP: Gamepark GP2X
And many others I'm not aware of...
ROM for emulator, full version: 15€